As healthcare professionals navigate their careers, it's advisable to brush up on your interviewing skills every so often. That way when a new opportunity arises, healthcare job candidates can feel prepared and empowered. Follow these five tips and call New Solutions Staffing to find out which opportunities are available for you today.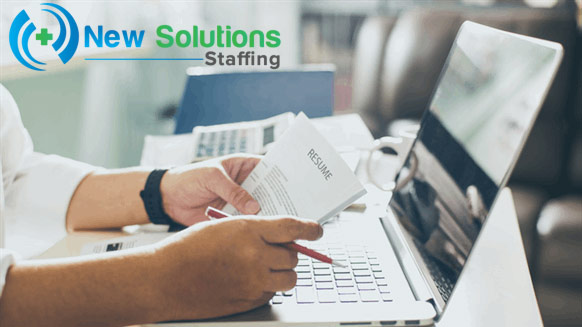 Tell me about yourself. This question can seem daunting, but with enough preparation you can tackle it. First off, think of this as your 10-second elevator pitch. You want to keep your answer brief and relevant to the job opening. In your response, say your name, job title, a recent accomplishment, give an overview of your area of specialty, and what you're looking to do next in healthcare.
Why are you interested in this opening? Be sure to explain why the organization is a great fit for you. Talk about a specific value, goal, unique skill you have that translates to the organization. Remember to keep it brief and to the point.
Why did you leave your last position? Think of anything positive to say about the last company you were with, and avoid saying anything negative. It was wonderful workplace, I learned a lot and I left to grow my skill set. Or I wanted to change specialties and work with private patients. Keep it positive.
Describe a challenge and how did you overcome it. Questions like these are done in two parts and allows the interviewer to gain deeper insight in your professional personality. Think of a time you were working under pressure and how you dealt with with it like a champ. Again, you want to explain your thought process and how you maintained your professionalism during a challenging moment.
Do you have any questions? Always say "yes" when asked this question. For one, it shows your interested in the position, and it gives you a chance to interview the interviewer. An interview is a two-way street. Good luck!